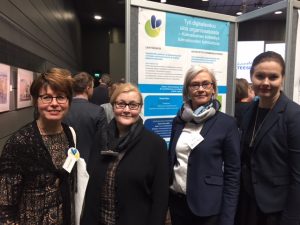 Valentine's Day brought the Strategic Research Council event "For the Love of Research" offering excellent opportunities for SWiPE researchers to network with stakeholders and to present our research project. The event organised at the Helsinki Music Centre drew over 300 stakeholders interested in Strategic Research Council research.
Throughout the day, solution workshops presented a number of engaging conversations between researchers and stakeholders. The SWiPE project took part in the Digital Transformations in Industry and Services solution workshop where SWiPE-researcher Mervi Hasu spoke of results of a study on full time work from home. Lively conversation on the strengthening trend of work from home ensued with among others the Minister for Communications and Transport Anne Berner, undersecretary Petri Peltonen from the Ministry of Economic Affairs and Employment and the chairperson of the Committee for European Regions Markku Markkula taking part.
Over at SWiPE's own stand, event participants had the opportunity to engage with SWiPE researchers in discussion on our project. The digitalisation of work away from organisations and the rise of teleworking as a common form of future employment were subjects of intense discussion. SWiPE research was represented by a poster, available here, on the subject.
The event was also marked the premiere of the first SWiPE-News video. Watch it here.