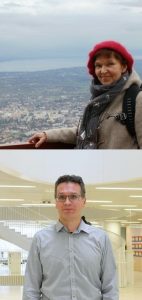 In the stream Digital change and the new challenges of organising work at the Finnish Conference on Work Research a number of aspects of changes caused by digitalisation was discussed. The stream was led by the leader of SWiPE's subproject, Laura Seppänen, from the Finnish Institute of Occupational Health, together with Sami Paavola, assistant professor of the University of Helsinki, and the DigIT research group. In a total of 12 presentations and lively discussions, the development of knowledge, the effects of robotics and the means of work organisation were discussed, especially in the platform economy.
Digitalisation and new technologies are a common way of trying to improve productivity. New technology requires a new form of organising work, agreement and negotiation, and a whole new range of tasks and roles. Seeing different opportunities requires cooperation and multidisciplinary learning. The changes in organising work are particularly wide in so called platform economy.
The working group examined in a wide range the ways in which employees and organisations will cope with changes in the digital change and reorganization of work together, while creatively promoting sustainable development, wellbeing and productivity. A key theme was also learning and developing the digitalisation of work, interaction and cooperation, the changes of occupations and tasks, and ethical issues.
A total of 12 different presentations were heard in the working group when work-life researchers presented their own research. They discussed both empirically, theoretically and in methodological terms about the digital change and the new organisation of work.
– We set the objective of a constructive debate between the views and the threats to promote digitalisation. The working group held a lively discussion on the basis of the presentations, and we hope that they will also create a new debate and encourage research on a new theme, said Laura Seppänen and Sami Paavola, who worked as stream convenors.
The presentations of the working group covered themes, such as teaching technologies, platform work, robotics, professional development and changes in organisation's courses of action caused by digitalisation.