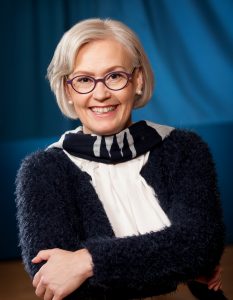 Mervi Hasu, SWiPE-researcher and leader of the sub-project, senior researcher of Finnish Institute of Occupational Health, made a remarkable change in her career and began in a permanent position as a associate professor in the Department of Education at the University of Oslo. The work has taken off step by step and learning new has taken time. Mervi also continues as a researcher in the SWiPE consortium.
Mervi Hasu's field of associate professorship in the Department of Education is workplace learning. – Half of the task is teaching, half own research. My job is to strengthen the connection between working life and teaching and link the perspectives of adult education, innovation research and work life research to the department's teaching and research. The department is Europe's largest department of educational sciences, and the number of students is comparatively large, says Mervi.
Mervi tells that the work has taken off step by step, because everything is new. – Last autumn I did not yet teach actual courses, but I gave a few lectures and participated in planning the new programmes. I also started the Norwegian language studies, tells Mervi about the early stages of her new post.
– From January on, I mainly teach the "old" courses of bachelor studies and prepare the new programmes starting in the autumn. I evaluate master's theses and supervise some master's theses. In many ways I am in a student's role during this year, Mervi continues.
New in Mervi's work is especially university teaching and student guidance. The majority of students are newly-high-school graduates, when during the former post Mervi has been involved more with adult professionals. – I came to "experiment" how I could bring the aspects of a working life in a lively and interesting way to the understanding and application of learning theory, Mervi says.
– There are many contentual and organisational and administrative issues related in teaching. When the various tasks come on one's way for the first time, familiarization takes a surprisingly long time. Getting started with teaching is exciting – I'm in my discomfort zone every day, Mervi describes.
After 14 years in Finnish Institute of Occupational Health, the change was hoped-for. – I hope that the new role as a teacher will help me to find new perspectives on my research. Teaching is communication, interaction – learning together, describes Mervi her new work.